I thought I'd pop into town as I needed a couple of last minute bits for my holiday… I was thrilled to find so much I liked – normally when I go shopping I struggle to find something, but yesterday I was very pleased with my purchases!
I had some things to take back to Primark, so it felt like I was shopping for free which was even better! I got….
A black beach cover-up with gold beads £8
A halter neck feather print dress which I got for chucking on for lunch by the beach – this was marked up as £5 but rung through at £3 – bargain!
A blue pleated dress – they had it in a lovely burnt orange colour too, but not in my size. It's 100% polyester and is rather shiny but it's a really nice shape and looks better on. It was £13.
A pinky coraly, baggy top with two buttons on the front, £8
…which I plan on wearing with these patterned shorts which were £9.
I thought this was a boob tube, but it came up on the till as a textured skirt! I doubt I'll ever wear it as a skirt, but thought it would look nice with white jeans or my black high waisted jeans. I adore this blue. It was £4.
Not for holiday, but I got a loose sheer cream top with mother of pearl buttons £10
I've seen these on other blogs and loved them – you get a pack of 2 friendship bracelets for £1.50. I got 3 sets to stack on my wrist.
And lastly, I got this cream quilted heart shaped coin purse, marked down from £2 to £1. It's really cute, perfect for fitting in my clutch and lined in leopard print – cute!
In River Island I got….
This vest, which I really don't know how to put into words how to describe it! The lighter parts of the top you can see below are soft to the touch – really nice textures going on. The back is completely see through.
And these wet look leggings which were £20. I really liked them because they have a cracked, textured, mottled effect on them which is different to most leather look or wet look leggings. I wish I could take this outfit away with me as I love it, but think it'll be too hot!
I saw a girl trying on these sandals – they are not the kind of thing I'd normally go for but they looked amazing on her – I tried them on but didn't buy them but have been thinking about them all day! I have a sneaky feeling I might try to pop to River Island tomorrow to get them – shhh!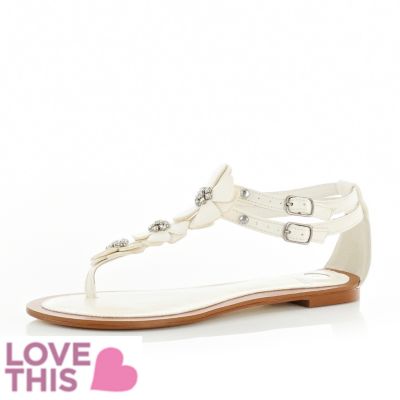 And last but not least, I got this white vest in Zara, which was £9.99. I already have it in black and bright blue and just love how it fits, it's really flattering – and has a zip down the back which I like as it just makes it a bit different
And that's it! Now to start the packing, meep!